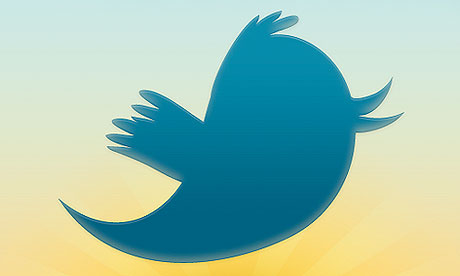 Google Chief Executive Eric Schmidt, onstage at the TechCrunch Disrupt conference in San Francisco on Tuesday, plugged the moneymaking potential of Twitter.
"Twitter strikes me as being a very important platform," Schmidt said. "Twitter should be able to come up with advertising and monetization products that in our opinion are highly lucrative."
Twitter Chief Operating Officer Dick Costolo was in New York at the Interactive Advertising Bureau's Mixx Conference on Tuesday with a similar pitch.
That's where he unveiled a new initiative called Promoted Accounts. Advertisers can boost their audience on Twitter by paying Twitter to automatically suggest to users with similar interests that they "follow" the advertisers. Costolo said in an interview this month that Twitter was pleased with the performance of Promoted Tweets, which appear at the top of updates, and Promoted Trends, which are featured on a list of trending topics. Advertisers pay when users click on a link, which happens about 5% of the time.
The idea behind the latest initiative is to give businesses the opportunity to get their updates in front of users, not just their ads. Twitter plans to roll out a self-serve advertising system for small businesses next year.
Costolo also said Twitter was abandoning its @earlybird initiative, an account that Twitter users could follow to get daily deals from advertisers.
It was a big day for Twitter: It surpassed MySpace in unique visitors to become the third-most popular social networking service. According to its latest stats, Twitter has more than 160 million users and is adding 370,000 users a day.
Twitter had nearly 96 million unique visitors in August, up 76% from the same period a year ago, ComScore said. MySpace shed 17% in the same period, dropping to 95 million unique visitors last month.
Twitter and MySpace are tiny compared with Facebook, which jumped 54% to 598 million unique visitors in August, and Microsoft's Windows Live profile, which combines the company's Web-based e-mail and other services to grab 140 million unique visitors.
Twitter could gain more visitors with its redesign launched two weeks ago.
COMMENTARY:   So I can expect to see a new section labeled Who to Follow with some links for brands Twitter thinks I should follow and that I share commonalities with.  Sounds interesting.
I am curious about that algorithm that Twitter has developed that will identify brands that I should follow.  Since I am into technology, SMM, venture capital, green technology, inventions and new products, and booty, this could actually help me connect with brands.  I benefit because maybe I learn something from that brand, and the brand benefits because they have another set of eyeballs for their products or services, and potential customer.  Ah yes, it all makes sense. 
Never mind that I can search for followers or brands that might interest me on my own, and I have done this in the past, but Twitter thinks they ought to help us along, instead of waiting for us to act. So what is the payback ($$) for me if I take up Twitter's recommendation and follow a particular brand?   Nothing comes free laddies.  I want some doe, virtual currency or something of value that I can redeem.  Fort of like points used in loyalty programs.
I think Twitter needs to make a compelling call to action, for example, "WIN a date with Kim Khardasian, click here to qualify for the grand prize."  That might actually do it for me, all kidding aside.
Courtesy of an article dated September 28, 2010 appearing in The Los Angeles Times