MOORESVILLE, N.C. - The smell of steak along Highway 150 in Mooresville is coming from what could be a one-of-a-kind scented billboard for a grocery store.
The billboard for Bloom, a division of Food Lion, is fashioned into the shape of a gigantic piece of steak on a fork. However, the most appetizing part of the billboard might not be the picture.
"It smells like uh, Barbecue, like hickory or something like that being Barbecued and smells like steak," one motorist described.
The scent is emitted by a high-powered fan at the bottom of the billboard that blows air over cartridges loaded with the BBQ fragrance oil, said Murray Dameron, marketing director for Charlotte-based ScentAir, which provides custom scents and fragrance-delivery systems for businesses, including hotel lobbies, casino gambling and retail stores.
The billboard scent is "basically a blend of black pepper and kind of a charcoal grilling smell," Dameron said. "It smells like grilled meat with a nice pepper rub on it."
A Bloom spokesperson said the company is always looking for new ways to reach the consumer.
"With all the advertising around, you wanna be able to jump out and really grab the consumer's attention," said Angie Hunter, a spokesperson for Bloom stores.
Bloom also gained national recognition for their infamous Blueberry muffin advertisement. The ad, which was in place a few years ago, first featured a three-dimension muffin pan full of blueberry muffins.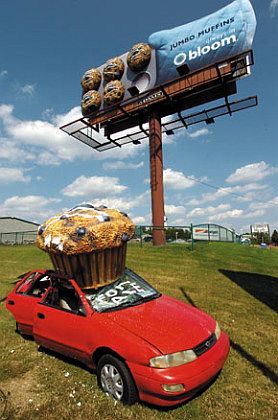 Several days later, Bloom removed one of the muffins and added a crushed-car below the advertisement creating the illusion the muffin had crushed the vehicle. This advertisement was on the same billboard in Mooresville.
The billboard, which Bloom lit up on May 28, will emit scents from 7 a.m. to 10 a.m. and 4 p.m. to 7 p.m. every day until June 18, Bloom spokeswoman Christy Phillips-Brown said.
The billboard is located on Highway 150, near Lake Norman in Mooresville.
COMMENTARY:  The scents used by Bloom Outdoor Advertising are developed by AirScents, a Charlotte, North Carolina company specializing in in-store scents.  On its website AirtScents describes itself:
ScentAir is the market leader of in-store scent solutions for brands and retailers. Our patented systems help enhance environments, communicate brands and create memorable experiences. We give our clients the tools to sculpt their own unique environment, completing their customers' experience by engaging memory and emotions through the sense of smell. Our scents and systems can be customized to reflect and complement any brand or environment.
ScentAir has installed thousands of systems for all kinds of clients...from retail to entertainment, from hotels to healthcare. You name it, we are probably there. And our client list continues to grow.
ScentAir carries over 1,600 distinctive and appealing scents with names like mandarin cranberry, breeze, sun & sand, clean cotton and sparkling cinnamon.
I thought that "scent marketing" was just another marketing gimmick, but there is real science behind its use.  The effectiveness of scents as a way to market products and services is due to The Proustian Effect.
What is the Proustion Effect? It's what happens in your brain when a smell unleashes a flood of memories, taking you back to a particular time and place.
It's named after Marcel Proust, the brilliant author who wrote short stories, essays and novels back in the early 1900s. Proust is often considered the father of the modern novel, but the reason he's important to us is because he was the first to link smell to memory - and to write about it.
Proust describes this phenomenon in his novel, Remembrance of Things Past, while eating madeleine cake: "...and as soon as I had recognized the taste of madeleine soaked in her decoction of lime-blossom which my aunt used to give me ... immediately the old grey house upon the street, where her room was, rose up like a stage set ... and with the house the town, from morning to night and in all weathers, the Square where I used to be sent before lunch, the streets along which I used to run errands, the country roads we took when it was fine."
We experience the Proustian Effect almost everyday. Scientists and Nobel Prize winners are studying this phenomenon across the world.
And here's how we fit in. ScentAir is putting the power of emotion - guided by the strong and influential sense of smell - to work for businesses everywhere.
Courtesy of an article dated June 3, 2010 appearing in MyFox8.com