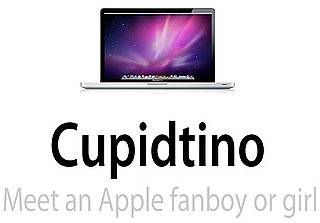 Mel Sampat's girlfriend was getting jealous of his iPhone. Once a Microsoft program manager loyal to his company's wares, Sampat left his job last February and became an Apple convert, buying a veritable catalogue of products—iPhone, MacBook, Nano.  By early April, his new fetish had become contentious. At their dinner table in San Francisco, Sampat's girlfriend would complain he was too busy playing with his gadgets to pay attention to her. "Can't we talk about us?" Sampat recalls her saying. "Can't we talk about Desperate Housewives?"
As their bickering escalated, Sampat, 31, reached a breaking point. "I said, 'Maybe I'll date someone who will talk to me about Apple stuff.' " As he left the room to cool off, Sampat had an epiphany: Was there a woman out there with whom he could share his love of Apple products? Someone to make iTunes playlists for, someone to watch him play Angry Birds on his iPhone? In that moment, Sampat conceived a matchmaking site specifically for amorous fans of the company headquartered in Cupertino, Calif. "I didn't wait around for market research or some consultant to tell me if it was going to work or not," he says. And so Cupidtino was born.
Sampat launched the site later that month, a few days after Apple Chief Executive Officer Steve Jobs unveiled the iPad. With Mac lust spreading all over the digital grid, Sampat e-mailed the link to a few tech blogs. One recipient was Michael Arrington, the influential Silicon Valley blogger, who was immediately moved to post an alarmed note on his site TechCrunch. "The thought of them breeding and creating little Apple fans, a whole family of hard core hipster Apple lovers, is just not a good thing," Arrington wrote. "On the other hand, making sure that Apple fans only date other Apple fans is a good way of stopping them from spreading their Apple fan genes to the general population, I guess. So maybe this site isn't all bad." A day after the launch, more than 5,000 users had signed up. Sampat's girlfriend learned of the site's existence by watching him discuss it on the local news.
In less than a year, Cupidtino has grown to more than 27,000 registered "Machearts"—all of whom must sign up through the Apple-created browser Safari. The site's simple interface resembles a Mac desktop, with icons for favorites, gadgets, and messages hovering over a toolbar at the bottom of the screen. Users can name their favorite iTunes songs and display their favorite iPhone apps. They are prompted to fill out a form that asks both typical dating-site background questions such as "What do you do for a living?" and more specific ones like "When did you become 'a Mac'?" The site doesn't hide its premise. "Diehard Mac & Apple fans often have a lot in common," it declares on its home page, "personalities, creative professions, a similar sense of style and aesthetics, taste, and a love for technology. We believe these are enough fundamental reasons for two people to meet and fall in love."
While Cupidtino keeps its demographics private, a perusal of the site reveals that users tend to be male and largely West Coast-based—some of whom gamely pose with their favorite gadgets. While users can send initial messages for free, they will be prompted to pay $4.79 per month if they get a reply. The price is pegged to the cost of a Starbucks (SBUX) venti latte. "When Starbucks raises their prices, we'll raise ours," says Sampat. "That's how we adjust for inflation."
According to Alexa.com (see below), an online web analytics service, Cupidtino's members lean towards those 18-34 years of age, predominantly male, not college educated, childless, and browse from school or work.
He won't reveal how many Machearts have paid for the service but claims the site, which Sampat runs with the help of two interns, makes a small profit. Cupidtino rents shared office space in San Francisco's Dogpatch neighborhood, but Sampat prefers to work from a café or even his bedroom. Cupidtino does not yet accept advertising, and Sampat and a partner—who remains anonymous to maintain his programming job at a major e-commerce company—are paying themselves modest salaries.
COMMENTARY:  Cupidtino, which was initially available in a free "beta" version but starting Wednesday, January 26, 2011, will begin charging users about $5 a month to read messages they've been sent, has snagged 27,000 Apple fanboys and fangirls since it launched in early June. It's usable only on a Mac, iPhone, iPod Touch or iPad, naturally. Your browser lets Cupidtino know what operating system your computer uses, so if you try to access it on a PC it will lead you to a page that apes Apple's popular "I'm a Mac" ads and lets you know Cupidtino is off-limits from Windows.  And you can only sign up on a Mac or iPad; Cupidtino quickly disabled iPhone signups because users can't upload photos from the device.
I love the exclusivity to Apple fans, but I believe that this young man Sampat will quickly learn than there are people out there that own PC's plus Apple devices like an iPhone or an iPad.  So why not open membership to everybody?  Zuck started by making Facebook exclusive only to college students, but within a year or so, opened membership to everybody.   How else are you going to grow?  Sampat, talk to me youngman.   
With the small number of active members,  it may be difficult to find anyone near you.  The site only lets you filter users by country and, in the U.S., by state. Sampat said he and two unpaid stakeholders are working on more features, as well as Cupidtino iPhone and iPad applications.
I know that Sampat would not want to hear my advice, but he needs to determine the potential size of the Apple universe, how many are single, and so forth.  Cupidtino's membership is peanuts compared to other dating options available today (see below chart) and you can log into them with an PC or Apple.   I am also concerned that Cupidtino leans heavily towards high school students and males. Where are the gals.   He has his work cut out for him, but in the end if he wants to grow, he will open the gates to us PC users.     
For now I will give Sampat the benefit of the doubt.  I predicted, as well as numerous other technology experts, that the iPad would not make it in the marketplace, and even predicted that apple would sell 6 to 7 million units, not the 1o million that Steve Jobs forecasted for 2010.   That was a bad call, Apple sold 14 million in 2010, and could end up doing 25 million in 2011.
Courtesy of an article January 20, 2011 appearing in Bloomberg Businessweek