I also stated that the main problem was the stock market itself, and theorized that a lot of what was going on was due to the "Hedge Fund Effect", namely that a total of 195 hedge funds own 4% of total Apple stock outstanding, and the ease with which a stock's price could be manipulated when so many shares are concentrated in the hands of a small number of shareholders.
Well, low and behold, previous to my blog post, a 
May 12, 2011
, Fortune reported on an interesting phenomenon being observed in Apple's stock price related to the weekly options market, the trading of rights to purchase stock at a given price at the end of a specified period. According to the report,
Apple's stock is consistently seeing suspicious price changes on Fridays as those options are set to expire, activity that makes a significant number of traders lose any potential gains as the stock price moves to meet the strike price for that week's options.  In many cases, that activity serves to depress the overall stock price, thereby also negatively impacting regular traders as well.
It was 3:48 p.m. on Friday April 29 and traders who had purchased Apple (AAPL) April 29 $350 "calls" -- options that gave them the right to buy Apple shares in blocks of 100 for $350 per share -- were sitting pretty. The stock was trading around $353.50 and those calls were worth more [than] $350 apiece (the difference between the price of the stock and the so-called "strike price" of the option times 100).

Then, in an extraordinary burst of trading -- exacerbated by the rebalancing of the NASDAQ-100 scheduled for the following Monday -- more than 15 million shares changed hands and the stock dropped below the $350 strike price just before the closing bell.  Result: The value of those calls disappeared like a puff of smoke.  
Fortune went back and charted (see below) the daily closing prices for Apple stock over the past eight weeks, comparing the Friday closes to the "max pain" price at which options on both sides of the equation (puts and calls) have the least value in aggregate. Throughout the time period, Apple's stock consistently moved toward the max pain point on each Friday, sometimes over a period of only minutes as trading came to a close for the week.
NOTE
: As you can see, the stock tends to gravitate toward the red closing strike price, either by moving down (reducing the value of the calls) or moving up (doing the same to the "puts," options that give the holder the right to sell a stock at a certain price).

While the phenomenon is not new and not unique to Apple, the reasons for it are not entirely clear. Some have argued that normal hedging activity is responsible for the drifts in stock price, but scientific studies have shown that such stock price behavior would not be accounted for by simple hedging and is thus indicative of stock price manipulation, which is illegal under U.S. securities law.

Apple is obviously one of the most closely watched stocks these days, and with the second-largest market capitalization in the U.S. markets has the potential to significantly influence trading. And so an apparently consistent manipulation of Apple's stock price makes for an interesting story, even if it is not yet clear who is responsible for the activity and how it is being accomplished.
On
May 29, 2010
, Seeking Alpha's Brett Johnson wrote a delicious piece titled,
"Apple: The Most Undervalued Equity in Techdom."
   The main thrust of the article was that Apple's stock price simply did not jive with its fundamentals.  Mr. Johnson said, 
"In all the reading and research I have done on the sector, the one stock that stands out is Apple Inc. (AAPL). I have not found a single company that has grown revenues, earnings, and cash flow so consistently, with such a low multiple.
Apple Inc., together with subsidiaries, designs, manufactures, and markets personal computers, mobile communication and media devices, and portable digital music players. In addition, it sells related software, services, peripherals, networking solutions, and third-party digital content and applications worldwide. The company sells its products worldwide through its online stores, retail stores, direct sales force, third-party wholesalers, resellers, and value-added resellers. In addition, it sells third-party Mac, iPhone, iPad, and iPod compatible products, including application software, printers, storage devices, speakers, headphones, and other accessories and peripherals through its online and retail stores; and digital content and applications through the iTunes Store. The company sells its products to consumers, small and mid-sized business, education, enterprise, government, and creative markets. As of September 25, 2010, it had 317 retail stores, including 233 stores in the United States and 84 stores internationally."
Mr. Jensen then very methodically cited numerous reasons why Apple's publicly traded stock price was not a reflection of Apple's true valuation by saying,
There are so many positive things to highlight about Apple, here are just a few:
Apple is a cash flow machine(it doubled its operating cash flow from end of fiscal year 2008 to end of fiscal end 2010), with cash and short term securities worth north of $65 a share on its balance sheet.
 Striping out cash, AAPL sells for under 12 times this year's earnings and less than 10 times 2012's consensus earnings.
 Apple consistently underpromises and overdelivers. It has crushed quarterly earnings estimates for two years now. Earnings estimates for 2nd Qtr, 3rd Qtr, 2011 and 2012 has significantly moved up over the last ninety days.
 AAPL sells for .65 times its expected PEG and is projected to grow revenues by almost 60% in 2011 and over 20% in 2012.
 Macbook continues to gain market share, iPad is the most rapidly adopted tech product in history, and new iPhones will be released before end of year.
 Given Apple has just over 300 retail stores, it has ample opportunity to expand in that space, given its huge success.
 Its earnings, cash flow and revenues are reliable, GAAP compliant, and are rising in tandem; unlike story stocks like Salesforce.com, that will not even have GAAP earnings until after 2012. See chart below (normalized for the different prices of the two stocks).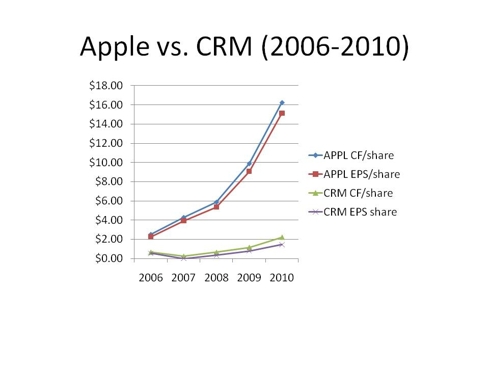 Mr. Jensen's list was almost an identical match with many of the positive things I said about Apple in my May 17, 2011 blog post.  
In recent memory, I cannot find a company that has so many good things going for it.  It flatout dominates the five principal markets in which it competes:  digital music players (iPod), smartphones (iPhone), tablet computers (iPad), digital music downlaods (iTunes) and even internet television (Apple TV).  It is also gaining market share in desktop computer space with its line of PowerBooks, iBooks and IMacs, as more consumers and enterprise users become avid users.      
The only negative among this incredible abundance of product successes and positive news is the indefinite leave of absence announced by Steve Jobs on January 17, 2011.  I took the liberty to review Apple's stock price over the last six months and provide the following chart courtesy of Google Finance.  
During the week beginning January 14, 2011 and ending January 21, 2011, Apple's stock price dropped from 348.48 to 326.72, dropping 6.66%, a result of this "bad" news no doubt.  However, Apple's stock price quickly rebounded, and hit a year 2011 peak of 363.13 on February 16, 2011.  Since the February 16 peak, Apple's stock price has experienced a series of ups-and-downs, culminating in a near low (second lowest for 2011) of 326.46 on April 15, 2011.  
Today, Tuesday, May 31, 2011, Apple issued a press release (see below) announcing that CEO Steve Jobs and several key executives would appear at the company's annual Worldwide Developers Conference (WWDC) to be held on Monday, June 6 at 10:00 a.m.
On May 31, 2011, CNN Money published an article titled, "Why Steve Jobs Keynotes Matter".  In the article, CNN Money attributed the incredible 10.42 point increase in Apple's stock price, and 3.09% increase in its market capitalization that occured today, due to the "Return of Steve Jobs" on June 6, 2011.  
Seriously, how much of a publicly-traded company's valuation, as expressed by the price of its publicly-traded stock, is attributable to its CEO?   Did today's press release justify a boost in its stock price of such magnitude?   The quick answer is a resounding YES, especially since that CEO is no ordinary mortal CEO.  We are talking about Steve Jobs who has often been equated with the second coming of The Lord.
In reality, the face of Apple is Steve Jobs.  Steve Jobs is a CEO whose popularity and trackrecord of achievement are unrivaled.  Here are just a few of his "magical" and triumphant achievements.  
On May 12, 2011, Fortune Magazine voted Steve Jobs CEO of the Decade.
On March 3, 2011, Fortune Magazine listed Apple as the World's Most Admired Company for the fourth straight year.
On May 9, 2011, WPP named Apple the World's Most Valuable Brand, unseating Google.
On May 9, 2011, Technology Review listed Apple in its 50 Most Innovative Companies. 2011.
On December 10, 2010, Glassdoor.com's listed Apple #20 in its list of Best Employers. Facebook came in No 1.
Even with all the hoopla surrounding today's 3.09% increase in Apple's stock price, I think that the price increase was under-valued.  It should've been more, a lot more.  Any intelligent investor with a brain and ounce of foresight can clearly see that Apple's stock price is under-valued given Steve Jobs and Apple's incredible record of achievements, Apple's product domination and financial performance.
Apple does not fit in to the traditional price-earnings multiples of pubicly-traded companis.   The company's achievements are so extraordinary that the P/E multiple model needs to be revised. There should actually be several P/E models:  
Low performing companies.
Average performing companies.
High performing companies.
Extraordinary performing companies.
Guess which one of the four P/E models Apple falls into.  Yeah, you guessed right.  No 4.  Apple is the definition of "extraordinary performing" companies.  If Moody's and Stanard & Poor's can rate bonds AAA to FFF, then we should be able to do the same with P/E multiples.
The era of a one-size-fits-all P/E multiple model is over.  It has been made obsolete by the sheer power and force of Apple and its divine leader Steve Jobs.  It's like the discovery of a new element or energy force.  The text books need to be rewritten. 
That cubby hole of a P/E model that Ivy League stock analysts have created, the one you read about in your Finance 101 text book, is in dire need of revision.  I never liked the P/E model very much even when I was in grad school.  Let's call it the Price Earnings Model Revisionist Movement.  Join me.  Let's change this mother.  
In the above Seeking Alpha's Brett Jensen article, he makes a few recommendatins to "unlock" more shareholder value.  Here's what he has to say,
"What could Apple do to unlock more shareholder value?
Hard to criticize a management that has produced so many great products and stock price appreciation over the years, but here are three things I think could move the stock up:
1. Pay a small dividend. AAPL has ample cash flow and cash on balance sheet to pay a dividend of 2-3%, as it would be drop in the bucket to the company's cash needs and cash flow.
2. Provide more transparency on Steve Jobs' health and succession plans for the company. The market hates uncertainty.
3. Split the stock 10 for 1. A lot of retail investors have a hard time psychologically paying $335 for a share of stock. A split that produces a stock priced at $33.50 would stimulate demand and also allow retail investors to employ option strategies easier.
Brett also sets a "reasonable" multiple by saying,  
"Given Apple's growth prospects, products, cash flow and valuations, I believe Apple is severely undervalued and is a strong buy. Apple is selling at $335 a share. A more reasonable multiple of 15 times 2012's consensus earnings of $28.54 seems fair and even conservative given that AAPL consistently beats earnings estimates. That leaves my price target at $430. Price targets are $500 at Credit Suisse, $440 at S&P and Wedbush is at $450."
I hate stock splits because they are just cutting the valuation into tiny pieces.  Stock dividends are about the same.  Both can create a situation of unintentional price devaluations because there is just too much stock outstanding in the market for publicly-traded stocks.  Stock dividends and splits should be done with great care.
A cash dividend will only nominally affect the Apple's earnings per share and the corresponding effect on Apple's stock price may not amount to much,  since its stock price is already quite huge.  
So what is the solution?  My solution for creating a real and measureable increase in shareholder value is to do one incredible and fabulous acquisition.  The acquisition should fit into Steve Jobs' Digital Hub Strategy, his grand vision that has transformed Apple from a computer hardware company into the world's leading consumer electronics and entertainment companies.  You can read about the Digital Hub Strategy in my blog posts dated October 28, 2010 and March 23, 2011.  The idea of an entrepreneur's grand vision is mentioned in a lot of text books on entrepreneuring, but very few ever really achieve it.  Steve Jobs is that exception.  
A major acquisiton makes tremendous sense to me.  It has real tangible value, something investor's can truly identify with, and something they can clearly grasp.  And why not, Apple has a $66 billion dollar war chest of cash and marketable securities to play with.  In a previous blog post dated October 20, 2010, I predicted which acquisition Apple should make. See what you think.
Having said all of the above, if you are an Apple shareholder, I can almost guarantee you that you feel that your stock price should be higher.  You deserve betteer.  If startup companies that don't make anything like Facebook, Twitter and foursquare, are awarded such incredible valuations and those valuations are based mostly on hype, euphoria, greed and a whole lot of future potential, then Apple, which makes great products, value you can really measure, should be valued much, much higher. 
Courtesy of an article dated May 29, 2011 appearing in Seeking Alpha and an article dated May 31, 2011 appearing in Fortune