NEW YORK (CNNMoney.com) -- If you want to buy an electric car today, good luck, it's slim pickins. But fast forward three years and you could be facing more plug-in choices than you'll know what to do with.
That could be a problem for carmakers because most Americans still have little or no interest in buying electric cars.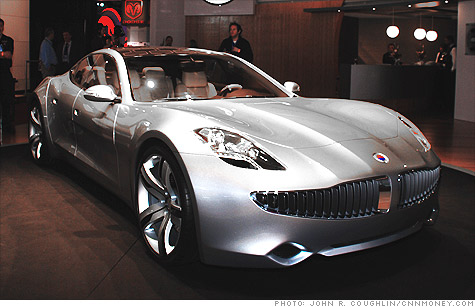 Judging from the recent L.A. Auto Show,  almost every major automaker, from General Motors  to Honda-- and even some not-so-major ones -- plans to have at least one plug-in car on the market by the end of 2012. Toyota alone will have three, including the Rav4 EV SUV and the Prius plug-in.
Meanwhile, several start-up companies, many of which are betting their lines on plug-ins, are planning their own assortment of cars including: Wheego's Smart car look-alike, Fisker's sumptuous luxury liner and Aptera's three-wheeler that looks like a hastily reassembled Cessna.
But despite all those new offerings, fewer than 7% of Americans say they would even consider buying a plug-in car according to a recent survey conducted by the automotive Web site Kelley Blue Book. Of those that may go electric, many are unlikely to double-up on risk by buying from an unknown company.
Survival of the fittest (Or at least best-known): The big automakers shouldn't be badly hurt. First, they aren't totally reliant on plug-in cars. Far from it. Gasoline cars still make the vast majority of their sales and their profits. Second, big carmakers like GM, Nissan and Toyota will probably capture most of the plug-in sales.

Electric car sales will mimic today's hybrid car market, where one model makes up half of all sales with the rest of the field left fighting over the scraps.
Meanwhile Chevrolet Volt the  may sell in respectable numbers, Omotoso said , "the rest will sell a few hundreds or a few thousands."
Companies like Georgia-based Wheego, which only makes one model right now -- the tiny Life electric car -- may struggle. The two-seat Life will cost about as much as the larger, better known, Nissan Leaf.
Wheego chief executive Mike McQuarry insists he isn't terribly worried. Attention to customer service will set Wheego apart, he said.
"If you email me, as the CEO, you're going to get a response back," he said. "I don't think [Nissan CEO] Carlos Ghosn can say that."
Besides, Wheego doesn't need to sell as many cars as the big boys to stay afloat, he said.
COMMENTARY:  I totally agree with this accessment.  The majority of electric vehicles or EV's, will hit the market by 2012, so the competition is going to be fierce.  In the exotic EV sports car segment Fisker Automotive and Tesla Motors will butt heads, but will be joined by Ferrari, Lamborghini, Mercedes-Benz, BMW and Porsche.   Somebody is going to get hurt.  
The Big Three Detroit automakers and the Asian Big Four will compete head-on for a piece of the mainstream sedan market. Competition is going to be fierce.  Things are going to get bloody. Several key issues must be resolved before there will ever be mainstream adoption  of electric venhicles.  I analyzed these in great deal a November 29 blog post about Tesla Motors.
Courtesy of an article dated December 8, 2010 appearing in CNNMoney.com