If you missed out on Neiman Marcus' $75,000 holiday-edition Camaro convertibles last week, there's still time to treat someone you love to overpriced luxury this year: Victoria's Secret says Adriana Lima will model this year's Bombshell Fantasy Bra, valued at $2 million. The customized boulder-holder contains 60 carats of diamonds and 82 carats of sapphires and topazes, all set in 18-karat white gold.
While the bra technically doesn't make its debut until Nov. 30, when Lima will sashay down the runway during The Victoria's Secret Fashion Show, catalogs are arriving in mailboxes now, and Victoria's Secret has even brought it to life with an iPad App.
Here are a few Victoria's Secret Fantasy Bra's from the past.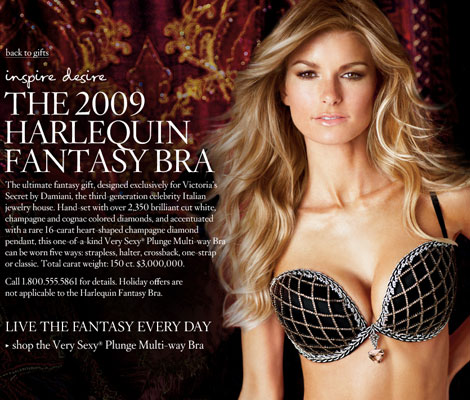 This year's bra was designed by Damiani, and took six Damiani craftsmen 1,500 hours of full-time labor to complete. (Each gem is handset.) The cover of the holiday catalog, however, features more affordable sparklers: Candice Swanepoel is wearing a push-up bra and matching V-string covered with pink iridescent crystallized Swarovski elements, which costs $250.
Neiman Marcus also unveiled an iPad app when it introduced its holiday catalog earlier this month, proving that no matter what the economy is up to, there's always room for some over-the-top fantasies.
Celebrating the 50th year of his-and-her gifts -- a tradition that started with matching Beechcraft airplanes for $176,000 -- the Dallas-based retailer is selling a one-of-a-kind precious jewelry charm bracelet, with each charm representing a memorable his-and-hers gift from years past, including an airplane, a Chinese Junk, a hot air balloon, a camel, a sarcophagus, a windmill, an ostrich, a Shar-Pei puppy, and a robot, for $248,000.
The his-and-hers gift itself this year is a $250,000 floating romantic getaway -- the MetroShip houseboat. With a 48-foot-by-12-foot open-floor plan and seven-foot-high interior ceiling, the boat is described as a luxury loft that floats, with waterproof hardwood floors and double-glazed windows, Bang & Olufsen Nintendo Wii gaming console and Sony LCD flat-screen monitor. The gourmet kitchen, naturally, features Viking and Gaggenau appliances.
And about those Camaros -- someone is doing more than kicking tires. With just 100 of the top-of-the-line 2SS models available, the cars reportedly sold out in just less than minutes.
COMMENTARY:   The Great Recession and consumer frugality appears to have affected the price of Victoria's Secret Fantasy Bra's.  
Modeling the 2010 Victoria's Secret Fantasy Bra is model Adrianna Lima, a beautiful and very shapely Brazilian. She is a top lingerie and swimsuit model for Victoria's Secret.  She is one of my favorite lingerie models.  Sure miss the Victoria's Secret catalog in my mailbox.  Guys, if you never gone to Rio de Janeiro, leave the wife and girlfriend behind.   It's a whole new world down there, trust me. 
Courtesy of an article dated October 25, 2010 appearing MediaPost Publications Marketing Daily