Bill.com Inc., a provider of bill-payment services, is trying to market itself on Facebook. But even though the venture-backed company has more than 10,000 clients, it has so far managed to secure only 67 "friends" on the social-networking site.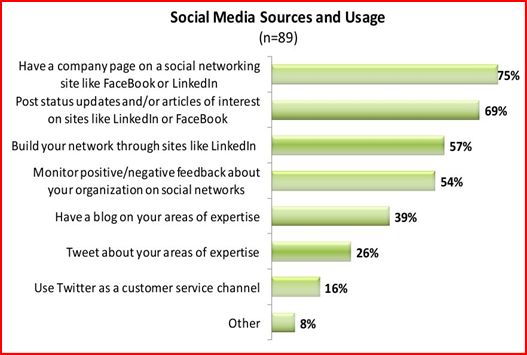 These days, even small "business-to-business" concerns like Bill.com are experimenting with social media, perceiving the popular online hangouts as low-cost, easy-to-use venues for attracting new customers and retaining existing ones. But unlike their consumer-focused counterparts—retailers that sell smartphones, jeans, games and other personal products—so-called B-to-B businesses seem to be having a harder time connecting with their target audience.
Facebook "is so consumer dominated that it takes time to find a voice that cuts through what's already out there," says René Lacerte, founder and chief executive of Bill.com, which is based in Palo Alto, Calif.
A survey released last month of 230 B-to-B companies shows that 24% are using Facebook Inc., Twitter Inc. and others for marketing, and another 36% plan to try them in the coming year. "It's certainly something that has taken off in the last six months," says Michael Greene, an analyst at Forrester Research Inc., which conducted the study.
In general, he says B-to-Bs tend to be slower to adopt new marketing technologies than business-to-consumer companies. But now that they're catching up, it appears that many are having a tough time gaining followers. "B-2-B isn't sexy," says Mr. Greene. "It doesn't have that same immediate attraction that consumer brands do."
Bill.com so far has only about half the number of Facebook "friends" as the average user, and far fewer than many of its consumer-focused counterparts. For example, LegalZoom.com Inc., a small business that helps consumers file legal documents such as wills and divorce papers, has more than 10,000 Facebook friends.
Making fans of other businesses, as opposed to consumers (or actual friends), may seem counterintuitive to social networking. So B-to-Bs typically look to interact with workers who make buying decisions on behalf of the companies they target. Many attempt to acquire contacts by providing links to their social-media profiles from their websites and marketing materials.
"B-to-B buyers are people, which means they are on Facebook," says Tim McLaughlin, president of Siteworx Inc., a small Web-strategy and design company based in Reston, Va., that is on Facebook, Twitter and LinkedIn. "You need to be where they are."
Some B-to-B owners say social networking is actually ideal for their demographic since it can take months for their kind of buyers to commit to a purchase. The products and services they sell tend to cost significant amounts and often several people are involved in the decision-making process.
For example, Eloqua Ltd., a marketing-software company in Vienna, Va., charges between $15,000 and $800,000 a year for its technology. Regularly posting status updates about industry trends and related topics to its Twitter, Facebook and LinkedIn Corp. profiles helps it stay "top of mind" among clients, says Joe Payne, chief executive. "There's no question what we do in the social world generates leads because it drives people to our website," he says. "We can see where they're coming from."
Sharing information or advice on social-networking sites is also a way for B-to-Bs to show off their expertise, says John Lopez-Ona, president of Six Sigma Qualtec Inc., a business-consulting firm in Princeton, N.J., that uses Twitter and has its own blog. "It's about building relationships," he says.
B-to-Bs are also running special marketing campaigns on social-networking sites, such as contests that give away prizes to winners. OnTimeSupplies.com, an online office-supply retailer, launched an initiative earlier this month in which it promises to donate 25 cents to a breast-cancer charity every time someone posts an update on Facebook or Twitter mentioning it. "We've always depended a lot on word of mouth... whether it's people trading stories in the cafeteria or on Facebook," says Miles Young, chief executive and co-founder of the Atlanta firm.
Some small B-to-Bs say they prefer to market themselves on networking sites specifically designed for businesses and professionals such as LinkedIn.com.
"You have to pick the right tools, and sometimes the tools are dictated by the kind of company you are and the kind of prospects and clients you have," says Kathy Scheessele, a partner at Mastering Business Development Inc., a Charlotte, N.C., business-consulting firm that recently started using LinkedIn.
"The type of people we're trying to engage with are at a certain level. They're not the typical kind of person who's going to be twittering or have a Facebook page," Ms. Scheessele says.
Like many other types of companies, small B-2-Bs are also using social media to find out what's being said about them online, as well as gather competitive intelligence and keep up with industry trends. "The big advantage of social media is listening," says Eric Bradlow, a professor at The University of Pennsylvania's Wharton School.
But he adds that once a business creates a profile on a social-networking site, it needs to use it on a regular basis to avoid stoking the rumor mill. "People build up expectations around communication," says Mr. Bradlow. "When expectations are violated, people will infer stuff that may not be true."`
COMMENTARY:  In my opinion social networks like Facebook and Twitter are not business-friendly, but more consumer focused.  They are designed for developing people-to-people relationships, not for developing business-to-business sales leads.  If a business is looking to develop serious business leads, then LinkedIn is my preference.  LinkedIn allows you to connect with executive managers, influencer's and decision-makers, not a faceless individual manning a social media marketing management service dashboard.
Mind you, I am not totally discounting Facebook and Twitter for cultivating business leads.  It's a lot more challenging and difficult process for a business to grab the attention of a decision-maker, because there is just too much social media "noise" or clutter.  If you are using Twitter, it is next too impossible.  Twitter and Facebook is great for some business uses, namely employee recruitment, customer support and creating buzz.  
The numbers speak for themselves:  49% of businesses have not adopted social media, spending more on traditional media (ratio of 20-to-1) and 60% of Fortune 500 CEO's still not using social media channels.  Businesses that are using social media are using it more for engaging with existing customers, creating marketing buzz and product promotions.  
For social media to be a cost-effective and successful source for sales leads, business users must use it in conjunction with traditional media, namely targeted direct mail and print advertising. Businesses should also utilize digital media, namely online ads using contextual and behavioral attributes, webinars, industry-specific online forums and communities and blogs designed to reach out and engage with decision-makers.  Finally, businesses need to drive traffic to their website, making a comprehensive SEO strategy absolutely essential.   
Businesses should also use more powerful social media management tools plus social CRM platforms that can mine and sift through countless comments and tweets.  Still, the business user must manually comb through that mined data for potential sales leads.  It's a lot more work, and I wonder if it is really worth the cost in human labor.  
Courtesy of an article dated October 20, 2010 appearing in The Wall Street Journal's Small Business