NEW YORK (CNNMoney.com) -- Apple's wildly popular gadget lineup propelled the company to a new all-time sales record of $20 billion, Apple said Monday as it announced its fourth-quarter results.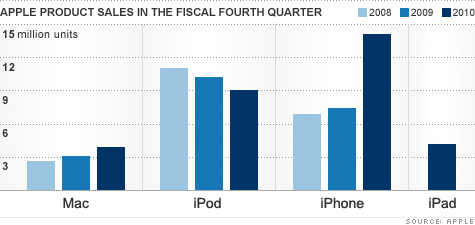 Calling himself "blown away" by the results, Apple CEO Steve Jobs promised more magic to come: "We still have a few surprises left for the remainder of this calendar year."
The company sold 14.1 million iPhones in the quarter, which represents a 91% increase from this time last year and easily topped even the most bullish estimates from Wall Street analysts.
Apple Chief Operating Officer Tim Cook told analysts on a conference call that the company would have sold even more had it been able to keep up with demand. Online, iPhone 4s have been on backorder since the device debuted in July. When pressed by an analyst about Apple's supply chain snags, Cook responded that the manufacturing issues have been mostly solved.
Apple sold 3.9 million Macintosh computers, which was up 27% over the previous quarter and also topped most estimates. The company also sold 250,000 Apple TV devices.
But Apple disappointed investors by selling just 4.2 million iPads in the quarter, up from 3.3 million tablets in the previous quarter. Apple said more than $2.7 billion of its sales, or 13% of its quarterly revenue, came from iPad sales -- a revenue stream that didn't exist just six months ago. But the sales came up short of the roughly 5 million that most analysts had anticipated.
Investors focused on the iPad sales and sent shares of Apple (AAPL,Fortune 500) down 5% after hours.
Overall, Apple easily surpassed Wall Street forecasts and turned a profit $4.3 billion, or $4.64 per share -- up 70% from a year earlier.
In a rare move, Jobs joined the conference call, spending most of his time talking about the competition.
Jobs noted that Apple outsold Research In Motion's (RIMM) BlackBerry devices in the quarter, saying, "We don't see them passing us in the near future." He argued that RIM needs to improve its software to keep up and will be challenged to compete on that front with Apple.
He also said Google's (GOOG, Fortune 500) mobile business model is too fragmented to really compete, with scores of Android devices of different shapes and sizes making it difficult for software developers to write apps for the platform.
"We make products that just work," Jobs said. "[Google's] approach is different than that. We're going to pursue ours, and we think that's the winning approach in the end."
Apple's so-called "walled garden" strategy has so far won it the best applications in the smartphone space, but it has also angered many developers who have been unable to get their apps into Apple's App Store. With increasing competition from Android, Apple recently eased its restrictions on apps for iPhones, iPads and iPod Touch devices.
The CEO saved most of his scathing comments for tablet competitors, which he said weren't even "competitors" but more like "qualified entrants."
He said Android isn't tablet-ready, and noted that most of the competition is releasing tablets with seven-inch screens, compared to the 10-inch screen on the iPad. Since the screen size is measured on the diagonal, Jobs noted that seven inches is actually just 45% as large as 10 inches.
Jobs was also pressed by investors about Apple's giant cash stash, which is closing in on $40 billion. One analyst inquired whether Apple would ever do share buybacks or pay a dividend, but Jobs said the company is happy to hang onto its cash in case it makes a mistake or a strategic opportunity comes along.
The company has a press event scheduled for Wednesday to preview the next version of its Mac operating system.  
COMMENTARY:  Damn impressive numbers.  Apple revenue and profit numbers ignited the stock market on Monday.  
I took the liberty to review Apple's Q1 through Q4 2010 revenues, profits and unit product sales and here they are:
REVENUES (In Billions):
Q1 - 12/31/09 - $15.66  (Prior Yr $11.88)
Q2 - 3/31/10 - $13.50 (Prior Yr $9.08)
Q3 - 6/30/10 - $15.7 (Prior Yr $9.73)
Q4 - 9/30/10 - $20.34 (Prior Yr $12.21)
YTD  9/30/10 -  $65.20 (Prior Yr $42.90)
PROFITS (In Billions):
Q1 - 12/31/09 - $3.38  (Prior Yr $2.26)
Q2 - 3/31/10 - $3.07 (Prior Yr $1.62)
Q3 - 6/30/10 - $3.25 (Prior Yr $1.83)
Q4 - 9/30/10 - $4.31 (Prior Yr $2.53)
YTD - 9/30/10 - $ 14.01 (Prior Yr  8.24
PRODUCT - UNIT SALES (In Millions):
QTRS 1 through 4 and YTD - 9/30/10
Macs:     3.36, 2.94, 3.47, 3.89  - 13.66 
iPphones:    8.7, 8.75, 8.4, 14.1 - 39.95 
iPods:    21.0, 10.89, 9.41, 9.05 - 50.35
iPads:  3.27, 4.19 - 7.46 
The iPhone 4 broke a record for iPhone unit sales so the year ending total of 39.95 is not surprising.  The iPad  was released in April with a lot of fanfare.  iPad unit sales are 7.46 million, putting it on course to do a minimum of 10 million for the calendar year ending 12/31/07.  The iPad is going mainstream with the "magical" device being sold not just through AT&T and Verizon, but through mass discount retailers Wal-Mart and Target.  Looks like Jobs was right about the iPad, and I apologize for doubting that he could sell 10 million in 2010. 
Apple is now a behemoth in consumer communications and entertainment digital devices.  With the launch if iAd, the mobile advertising platform for mobile apps, and the recent launch of Apple TV that brings the Internet, TV and iPhone apps into your living room, it would not surprise me if Apple hits between $90 and $100 billion in revenues in 2011. That's an unGodly number.
Courtesy of an article dated  October 18, 2010 appearing in CNN Money