BATAVIA, Ohio (AdAge.com) -- Six years after some people wrote off Martha Stewart because of her conviction on securities charges, 19 years after her magazine launched and 23 years after her first line of merchandise hit stores, a funny thing is happening to her merchandise brand: It's on fir e.




Historically known for selling tasteful bargain-priced house wares and garden items at Kmart, Ms. Stewart has shed her association with that retailer.

Now her expanding array of goods graces the shelves at  Macy's and  The Home Depot , not to mention  PetSmart ,  Michaels  and possibly someday a cosmetics counter near you .

She's no longer just about dishes, sheets and towels, but also putting her name on paint and carpets. A line of Martha Stewart collars, leashes and doggie dishes recently rolled into PetSmart. And she recently joined with Utah-based Provo Craft's Cricut Cake machine -- a printer-like device to create cake decorations -- to sell a  Martha Stewart-branded product  on HSN and in craft stores .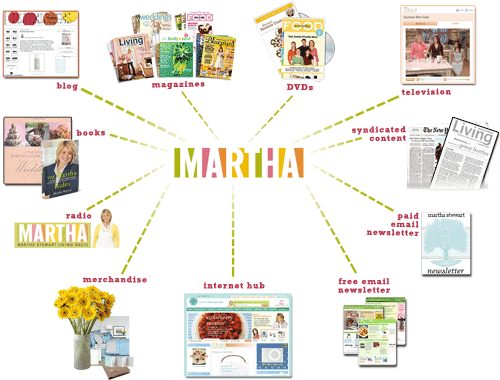 The Martha Stewart empire covers the gamut from merchandising to publishing
Martha Stewart skin care?
The 69-year-old former model, who in the past has endorsed some dermatologist skin-care brands and served on the board of Revlon, is also believed by some to be looking into a skin-care line.
"We have unlimited openness to listen to new business opportunities, and Martha is absolutely one of the most beautiful people I've ever met or worked with," said Robin Marino, CEO of merchandising for Martha Stewart Living Omnimedia. "So skin care could be something we'd be interested in down the road for sure."
Merchandising still isn't the biggest part of the Martha Stewart empire. Publishing is more than three times bigger for MSLO. But merchandising is easily the most profitable and fastest-growing part.
Sales in the second quarter increased 31% from the second quarter of 2009 to reach $11.8 million. Leaving aside a $2.2 million lump sum received for the early termination of an agreement with 1-800-FLOWERS, one of the few new ventures not to pan out, sales were still up 7%. That's compared to a 3% revenue decline for MSLO as a whole driven largely by the timing of "Martha Stewart Weddings," which fell in the second quarter last year but not this year. (The company is interested in pursuing another licensee in the flowers category, Ms. Marino said on an earnings call recently.)
For the first half, merchandising revenues excluding the lump-sum payment increased 8%, accounting for a $7.3 million operating profit that wasn't enough to offset an operating loss of about $800,000 for the company as a whole. Merchandising has a healthy 34% operating margin so far this year, compared to a small loss at this point a year ago.
"We search for the areas where we know we have powerful brand equity, where our consumer base tells us they want us to be and we believe we can make a unique difference," Ms. Marino said.
On the shift from Kmart to Macy's and Home Depot, Ms. Marino said extensive research showed consumers wanted to see the Martha Stewart brand in more places. "Those who weren't engaged with us said the brand wasn't available where they shopped," Ms. Marino said. "Looking at that research, we said we need to branch out and be everywhere they are."
Even PetSmart?
"Martha is passionate about her pets," Ms. Marino said. "She has many animals, but she has three dogs she's very fond of." Her French bulldogs Francesca and Sharkey, in fact, have a blog at  DailyWag.MarthaStewart.com .
Martha Stewart's old and new corporate identity designed by Doyle
 Partners of New York
Paul Newman all over again
The continued success of Martha Stewart's merchandising is a testament to two things, said Robert Passikoff, founder and president of consulting firm Brand Keys. First, people have a short memory when it comes to missteps by people or brands they love. Second, Ms. Stewart's brand is increasingly growing beyond the bounds of Ms. Stewart herself, much in the way Newman's Own transcended Paul Newman -- and now can easily outlive him.
"Yes, time has passed [for Martha and her securities troubles]," he said. "But there has in fact been greater and greater distancing from the human brand to the branded products. She's become a kind of default brand in a lot of categories."
Whether there are lessons in the rehabilitation of Martha Stewart for Tiger Woods is another question, as he's been an endorser but not necessarily a brand name of apparel, razors, sporting goods and consulting services.
"As soon as he starts winning again, people are going to seek him out for endorsements again," Mr. Passikoff said. "I wouldn't count him out. Now's the time to be making deals with him."
COMMENTARY:  I, like millions of Americans, just enjoyed every single day that Martha Stewart spent in prison for insider trading and tax evasion.   I was really hoping that her commercial empire would collapse, but Martha is one sharp business woman, surrounding herself with very smart people in all her businesses, and was able to survive the bad publicity and Great Depression, practically unscathed.  
By the way, I am one of Martha Stewart's (@marthastewart) followers on Twitter.  She really loves her pet dogs.  She looks absolutely incredible for someone 69 years old.  Call me Martha, let's date, take me out on the town in the Big Apple.
Courtesy of an article dated August 2, 2010 appearing in Advertising Age