Office furniture giant Herman Miller's long-term design strategy to survive the commercial office building bust, grow and compete more effectively
At the start of the 2000s, Michael Volkema, then the chief executive officer of Herman Miller Inc., became convinced that growth in the white-collar workforce was going to slow in the company's main markets. That was a threat to this office-furniture maker, based in Zeeland, Mich., whose revenues depended on products sold to the white-collar workforce — products such as office desks, chairs, panels, shelves, and cabinets. Volkema's solution was to create the Creative Office, a capability within Herman Miller for identifying adjacent markets in which the company could build businesses that would provide significant new streams of revenue.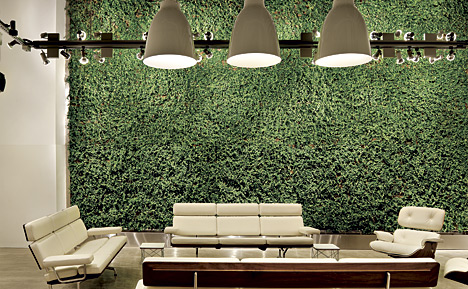 The CEO chose Gary Miller, a 26-year company research veteran, to spearhead the effort, with the aspiration of doubling the size of the company's business playing field in three to five years. Miller (no relation to the Miller in the company name) knew he would be exploring unfamiliar market territory. Although he would stay within the boundaries of office interiors, he would need to step beyond Herman Miller's traditional niche making furniture and cubicles.
Still, Miller didn't want to butt heads with incumbent companies. Why compete with giants dominating existing markets? "Gary went out and asked, 'What are the unsolved problems out there?'" says Brian Walker, the company's former chief financial officer, who took over as CEO in 2004. "He didn't ask, 'How do I respond to the market for specific products like lighting?'"
Miller's multiyear research and development effort, which included creating a partnership with West Coast and East Coast technologists and architects, led to a burst of new concepts. In lighting, for example, GE, Philips, and Osram Sylvania were then focusing on light-emitting diodes (LEDs) as substitutes for standard incandescent light fixtures. Miller and his team saw an alternative: using the low-voltage DC power of LEDs for novel kinds of illumination — light tunnels, walls, lighted objects, wearable light. Why restrict lights to conventional overhead fixtures? Why not integrate them into office furniture and fixtures in new ways?
That effort led to a suite of product prototypes dubbed Programmable Environments, and later to a new business named Convia. Among the prototypes were illuminated, movable "visual shields" that changed color and a suspended wall with integrated LEDs. Integral to the new product suite was the notion of programmability. Office workers themselves would be able to use various devices, including their desktop computers, to reconfigure and reprogram the office environment. The new hardware and software allowed Miller and his team to redefine how people would think about personal space, office geometry, privacy, and illumination. In the end, the R&D project spawned 25 patent applications, and Convia was established as a Herman Miller subsidiary in 2006.
The creation of Convia might sound like a tale of pure product innovation, or even of technology adoption, but it is actually a story about management — and only the most recent of several similar stories at Herman Miller. Over many decades, the company has made itself a laboratory for testing new management ideas and turning them into effective practice. Since 1995 in particular, under CEOs Volkema and Walker, Herman Miller has adopted a string of management innovations — shareholder value–based decision making, lean production, supplier and dealer integration — and made them work for the long term.
As testimony to the benefits of disciplined management practice, Herman Miller has weathered the recent financial storm while continuing to fund high-risk ventures like Gary Miller's. Herman Miller competes in an industry slammed by arguably the worst commercial real-estate crisis in a generation. Still, despite a 19 percent plunge in sales for fiscal 2009 (ending in May), the US$1.6 billion company reported a $68 million profit, albeit down from $152 million in fiscal 2008. Over the last 10 years, its stock has consistently outperformed the Standard & Poor's 500 index.
NOTE:  Click HERE to read the rest of this article
COMMENTARY:  I have always considered Herman Miller office furniture a class act.  They incorporate the best design and functinality.   Expensive, yes, but well worth the investment.  Herman Miller's Aeron office chairs are a classic that will never be out of date.  A classic. Pure unadulterated comfort.  I actually slept in one.
Courtesy of an article dated May 25, 2010 appearing in Strategy + Business Magazine