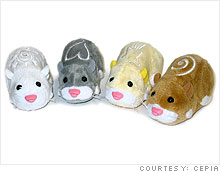 NEW YORK (Fortune) -- Zhu Zhu Pets, the inexplicably cute robotic hamsters that have become this year's overnight holiday toy sensation, are selling out across the country.
A caller to the Times Square Toys R Us in Manhattan on a recent Wednesday morning was informed that the store was out of the hamsters and wouldn't be getting its next shipment until Friday. Wal-Mart and Target shelves are also bare of the toys, analysts said.
The National Retail Federation recently listed Zhu Zhu among the top 10 holiday toys. Zhu Zhus are even showing up on eBay, priced at $60 to $100. The runaway success has created a dream come true for Cepia, the small, St. Louis-based company that created the motorized pets.
Cepia founder Russell Hornsby, 56, who got his start in the toy industry as a designer for Mattel 35 years ago, became convinced that the toys would be a home run after watching thousands of YouTube videos of live hamsters.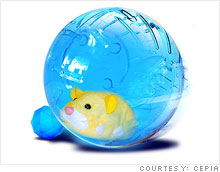 These robotic hamsters have names like Mr. Squiggles and Pipsqueak.
The plush Zhu Zhu hamsters, which sell for $9.99 apiece and have names like Mr. Squiggles and Pipsqueak, look remarkably lifelike. They wiggle their noses and shimmy and shake through their hamster habitats just like the real thing.
Working with a factory in Shenzhen, China, Hornsby designed the first Zhu Zhu prototype in November 2008 and then began the uphill battle of trying to convince retailers to place orders. That was during the depths of the financial crisis and many big chains were unwilling to gamble on an unknown product, but Hornsby eventually convinced Toys R Us to test-market Zhu Zhu -- which means "little pig" in Chinese -- in a handful of Phoenix stores. All the Zhu Zhus sold out in two weeks.
"It was so hot, we couldn't believe it," says Gerald Storch, the CEO of Toys R Us. "We immediately bought as much as we could."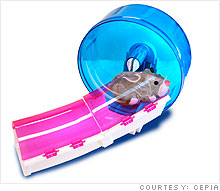 Although instantly popular, Zhu Zhu could have easily failed as thousands of new toys do each year. The sudden success of Zhu Zhu comes after a long career of ups and downs for Hornsby.
After Mattel, Hornsby worked for a series of companies, including Hyman Products, which sold novelty items, such as pieces of the Berlin Wall. In 1981, Hornsby founded Trendmasters -- a toy company that held the license to make toys under the "Star Wars" and "Godzilla" names among others -- and sold it to larger rival, Jakks Pacific (JAKK), in 2001.
A year later, Hornsby started Cepia to make lawn and garden products such as automated trigger sprayers. Hornsby applied some of the technology he had developed for the garden products to Zhu Zhu, which helped give the animals their lifelike quality.
"What makes them so great is that they are unpredictable," says his daughter Natalie Hornsby, 23, who heads Cepia's marketing department. The underside of each hamster is covered in molded plastic -- called bump codes -- that keeps the furry creatures from repeating the same moves over and over again.
Once orders for Zhu Zhu started pouring in, Hornsby turned to his investors -- mainly family members, including his oldest daughter and wife, who also work for the company -- to raise more money. Natalie says Cepia, which has 16 employees, expects to sell as many as 10 million hamsters this year, and predicts Zhu Zhu could be a $500 million product by 2010.
"It's the single biggest hit he's had," says Needham & Company analyst Sean McGowan, who has known Hornsby for 10 years. McGowan points out that Zhu Zhu had an underground following from the very beginning, despite limited advertising, while other hot toys didn't become popular until celebrities called them out. Fisher-Price's Elmo, for instance, took off only after Rosie O'Donnell featured the doll on her television show.
Hornsby, who was traveling in Asia and unavailable for comment, is starting to attract interest from large toy companies, some of which have floated potential offers to buy Cepia, sources said.
Natalie also declined to comment on a possible sale of the company, but she said her father is a born risk-taker: Once when Hornsby was in Las Vegas, a friend of his remarked on the fact that he wasn't gambling. "I don't need to gamble in Vegas," he told the friend. "I gamble every day of my life." 
COMMENTARY:   The failure rate among new toys is incredibly high, something like 94% never make it to retail shelves. 
This is a great example of an inventor doing their homework, identifying the market need and designing a product that meets that need.  Design is very important.  The Apple iPhone was not the first cell phone, but their leading edge engineering and unique design, which is ideally suited for Internet surfing, is what differentiates them, and has made them a leader in the smartphone category.
Instead of a static toy like most dolls, the Zhu Zhu is a able to move unpredictably.  You just don't know what the furry Zhu Zhu's are going to do next.  Zhu Zhu's have different names, come in different colors and include add-ons like homes with different rooms, plastic tubes or connectors to connect the different rooms, Zhu Zhu cars, turnstile wheels, skateboards and the furry creatures can be enclosed in plastic globes. 
The kids love real hamsters, but the parents often object to having a live animal in the home.  The Zhu Zhu eliminates that concern. Problem solved (see the above video).  I can now understand their universal appeal.  They are so cute.
In the past, you had to spend a lot on advertising and promotions to get the attention of the consumer, but we live in a different era, and the Zhu Zhu has benefitted from viral marketing and the result is mass appeal.  The fact that they are selling for ten times their suggested retail price on eBay, shows that these toys have achieved collectible status, like the Star Wars, Star Trek and Transformers toys.   
The Zhu Zhu is a status toy.  There is nothing else like it in the marketplace.  When you reach that plateau, my fear is that adults will buy the toys, jack up the prices, and the kids and their parents will become targets for financial exploitation.  I just hope that Toys R Us and other retailers place a maximum limit on the number of Zhu Zhu's that can be purchased at any one time.    
Courtesy of an article dated November 23, 2009 appearing in
CNN Money